Have a pet emergency but are unable to transport your pet? Southwest Florida Veterinary Specialists has a fully equipped ambulance with a highly qualified mobile medical team.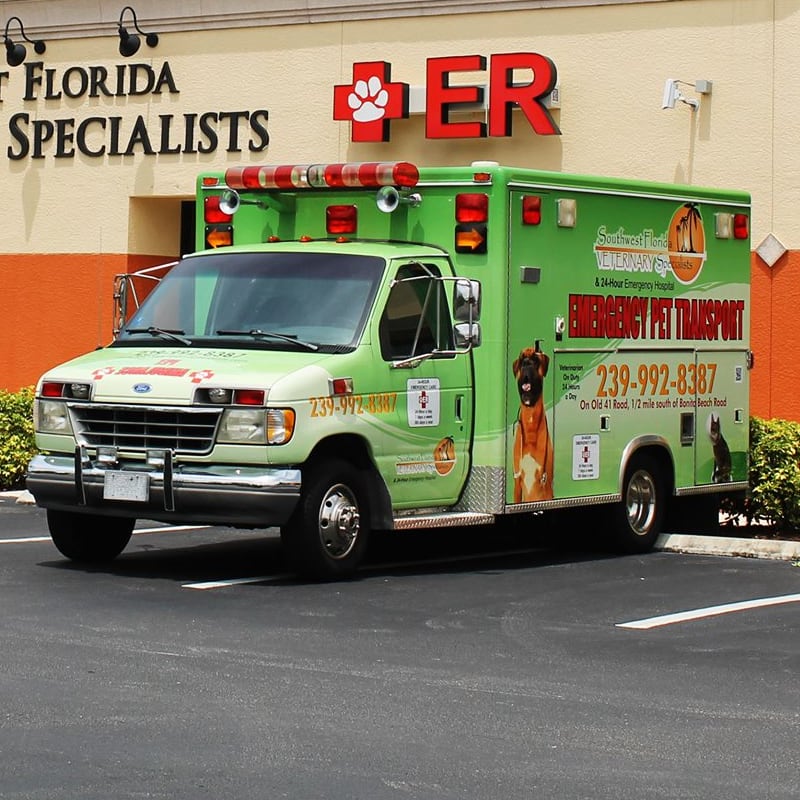 What are ambulance services for pets?
At Southwest Florida Veterinary Specialists, we know that finding transportation for your pet during an emergency can be stressful and confusing. 
That's why we have our own fully equipped ambulance with first aid equipment and a mobile medical team prepared to offer specialized life-saving care.  
Level of transport will vary depending on your pet's size, medical needs and other factors. 
Our specialized veterinary medical team in Bonita Springs is prepared for any emergency, and is fully equipped with a pet gurney, cages and all necessary first aid equipment. We are ready to serve you and your pet at a moment's notice.
Our First Aid Equipment
Our experienced mobile medical team is equipped with state-of-the-art first aid equipment to provide life-saving care at a moment's notice. We have oxygen, ECG monitoring and a defibrillator onboard our ambulance at all times. 
Does my pet need an ambulance?
Many situations require specialized medical care from a highly qualified medical team who can come to you. These may include:
Critically ill or injured animals
Care transfers from other veterinary practices
Oxygen-dependent animals
Post-operative patients that need overnight care
Deceased pets
At-home euthanasia (if not offered by your primary veterinarian)
If you find yourself dealing with any of these or are wondering if you have an emergency, please do not hesitate to contact us.